May the 6th 2016 " QWERTY Beauty", RAKE, Trondheim, Norway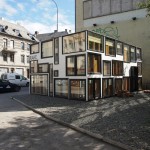 RAKE visningsrom is an independent exhibition space focusing on art and architecture.
It is the result of an student workshop (TreStykker 2011) in which thirty students from the architecture schools of Trondheim, Oslo and Bergen joined forces to design and construct an exhibition space using mainly materials from a nearby office building that was going to be demolished. The space was nominated and short listed for the Mies vander Rohe award 2013.
RAKE visningsrom is run by Trygve Ohren (architect) and Charlotte Rostad (artist).
The space is located at Brattørkaia 17, Trondheim, Norway.
During exhibitions the opening hours are:
Wednesday – Sunday: 13.00 – 18.00
Visit: Brattørkaia 17, Trondheim
Post: Strandveien 21, 7042 Trondheim